Healing the Hearts of Children in the Heart of Texas
The mission of Cherokee Home for Children is to engage children in education, community, and church-related activities to positively influence their lives. Preparing the children for the time where they leave Cherokee takes wholesome and dedicated people.
With your help we can make a difference. Our website furthers our mission by providing ways for you to learn more and get involved. Thanks for visiting.
Our Pigs are Growing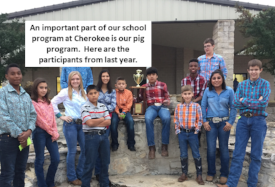 It's a time of celebration.
As we enter the holiday season, activities of some kind are scheduled about every day.  The Hill Country Toy Run party is now past, and many more opportunities to celebrate are coming.  Our thanks to all the groups and individuals that make this happen.